Solar Lights for School and Corporate Campuses
Solar is an efficient and eco-friendly alternative to traditional sources of power for lighting. No invasive construction is needed to set up solar lighting—and since it's independent of the grid, most costly utility work can be avoided.
Educational institutions from elementary schools and universities can pave the way for a more sustainable future by investing in solar lighting to lower their carbon footprint.
---
Advantages of Solar Lighting for Schools and Corporate Campuses
Solar energy has come a long way in the last ten years alone. Estimates find that solar energy production in the U.S. rose from 1.82 billion kilowatt hours of electricity in 2011 to over 90 billion by 2020. At the same time, electricity generated from fossil fuels like coal and natural gas continues to decline. Solar power will play a critical role moving forward as renewable energy sources gradually replace carbon-producing alternatives.
As efforts to expand environmental initiatives gain momentum across the globe, communities can show their support by investing in a more sustainable tomorrow. Schools, universities, and corporate campuses should consider leading the way by exploring the various advantages of solar lighting. Some of the benefits of solar lighting include the following.
Safety and Security
Solar lights for schools and corporate campuses are self-sustaining, meaning they can be relied upon during outages. Solar's independence from the grid ensures consistent power is delivered to school signs along busy intersections and crosswalks.
In areas like schools where safety is paramount, solar lighting can help keep drivers and pedestrians aware of their surroundings.
Better for the Environment
Unlike electrical systems reliant on the grid, solar lighting does not impact the local ecosystem with destructive trenching or digging during installation. Additionally, solar-powered lights will help minimize the carbon footprint of a school or corporate campus well into the future. Small upgrades like switching to solar lights can make a huge difference in protecting the environment.
Reduced Costs
As energy prices continue to rise, schools and universities can save money with the help of solar lighting. Once installed, solar school lights will reduce energy costs throughout their lifespan. Solar lighting requires little maintenance and panels are relatively easy to replace as well.
Aesthetic Appeal
Aside from the functional benefits, solar lighting systems are also engineered with visual appeal in mind and many different options are available that look as good as they work.
Greenshine New Energy offers solar lighting styles such as the Classica Series, an elegant, sophisticated lighting system that combines solar technology with traditional design features. For a more modern look, the Volta light pole is an excellent choice. This option provides high-efficiency LED illumination perfect for parking lots or other applications.
We also offer visually pleasing solar power generators that are easy to install virtually anywhere, delivering sustainable power to where you need it.
‌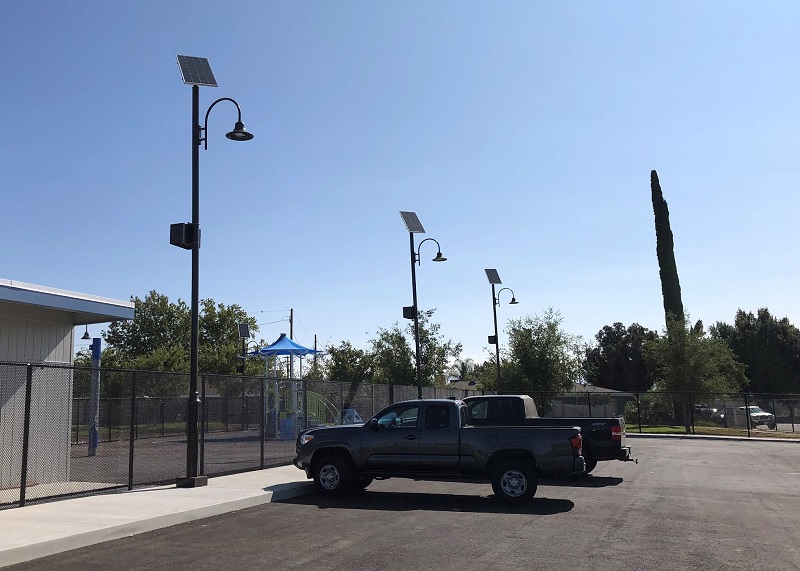 Exploring Solar Lights for School and Corporate Campuses

Important Considerations When Exploring Solar Lighting
Many Greenshine New Energy solar systems are set up to operate at maximum luminosity at dusk for five hours before reducing power throughout the night. However, this might not be the setup you need. Ask yourself the following questions to get an idea of which school lights you need:
What kind of lighting are you looking for? Is appearance or function more important?

Can nearby trees, buildings, or objects possibly block sunlight from reaching the panels?

What is the preferred height for your light poles? Does the city have a max height?

During what time frames do you require full or partial brightness?

What areas are you seeking to illuminate? Streets, walkways, or parking lots?

What is the purpose of the lighting? Security, safety, or aesthetics?

Is monitoring light functions important for you?

How would you like solar lighting to operate? How many lights do you need?

Are you under deadlines or schedules to install solar?

What is your budget for solar lighting? How do you feel about rebates?
‌
You may also be interested to know that we offer financing options for our solar systems.
​
FEATURES INCLUDE:



Applications of Solar for Corporate Campuses and Schools
Use solar to light up roadways or crosswalks in and around your premises for improved safety. Solar also works well for lighting up a school zone sign, parking lot, or walking path. The possible uses of solar lighting are practically limitless.
Solar lighting also provides an excellent opportunity to educate both students and faculty. It shows how renewable energy works to build a better world. Our team at Greenshine New Energy can set up a solar light project for school to get students and teachers more involved. 
Solar lights are plug-and-play, making them perfect for introducing people young and old to the fascinating world of sustainable sources of electricity. To learn more, review a few case studies of solar projects we've done in the past. Fill out a quote to receive your free consultation today.
| | | |
| --- | --- | --- |
| Solar powered LED street light pole featuring a 60-80 watt cobra head style LED fixture with 2 solar panels.​​ | A decorative design with the most advanced LED lamp (CREE XPG-3) on the market, ranging from 30-80 watt.​​ | Sleek and efficiently designed, the Volta features a 20ft. square pole with solar panels wrapped around the shaft.​ |
| | | |
| --- | --- | --- |
| A "Cobra Head" style light fixture with modern style elements. | An architecturally pleasing LED light fixture with a round form and dome-shaped top. | The Flood 60 is a small and discreet, battery-operated, LED light that blends into the environment around it. Perfect for signage or perimeter security applications. |
---
SOLAR POWERED LIGHTS FOR SCHOOLS AND CORPORATE CAMPUSES
Infrastructure Lighting
Lighting Control Solutions
LED Area Lighting
LED Roadway Lighting
​LED Perimeter and Security Lighting
LED Street Lighting