Greenshine New Energy provides solar lighting for homeowners' associations
‌Homeowners' associations (HOAs) require quality solar lighting solutions that also save them money each month. One great option: solar-powered lights from Greenshine.‌
Examples of solar lighting uses for HOAs include:
‌These uses help keep residents safe and aware of their surroundings. Greenshine New Energy provides solar lighting for homeowners' associations across the country, helping them integrate a renewable source of energy that works to decrease grid power usage. Solar-based HOA lighting allows these organizations to better align energy needs with long-lasting, high-quality lighting solutions.
---
Advantages of Solar Lighting for Homeowners' Associations‌
The three key benefits of solar lights for HOAs include:
Cost-effectiveness: Save big on energy costs each month.

Low maintenance: Stop changing so many light bulbs throughout the property.

Community security: Brighten dark areas throughout the night.
Applications within Solar for Homeowners' Associations
Many HOAs around the country are adopting solar lighting. The technology is being used for these most common applications:
Deterring Crime
Security is one of the most important considerations for HOA managers and homeowners alike. Exterior solar lighting keeps areas illuminated throughout the night for increased safety. Light up parking lots or garages, alleyways, pathways, stairways, building entries and exits, gates into the community, and more.
Solar lighting is a more sustainable option so that HOAs can afford to keep these areas lighted at all times. Otherwise, crime may increase and vandalism could become more common on homes and buildings. The right solar lighting solution is one of the most effective ways to combat these issues.
Outdated Utilities
Some HOAs have to deal with housing areas that have old utilities. Sometimes these utilities can't be used for modern home lighting needs. Fortunately, solar lighting solutions don't depend on these older systems and can thus be integrated much more easily.
When HOA managers and planners are creating a lighting strategy, using solar is a great option for communities with older homes. Never worry about outdated utilities when you use solar lights.
Portable Lighting
Homeowners' associations may require portable lighting solutions now and then, whether it's for a special event or a common gathering area. Greenshine offers outdoor solar lighting applications for temporary parking lots, construction sites, outdoor concerts or fairs, and other uses. Sometimes it's not feasible to dig or pour concrete, so something more temporary is necessary.
With Greenshine's Porta Solar Lighting System, HOAs will have the lighting solutions they need when construction is taking place or when special events need fast, efficient lighting. Greenshine's light is the first above-ground portable solar light, giving HOAs lots of mobility and convenience.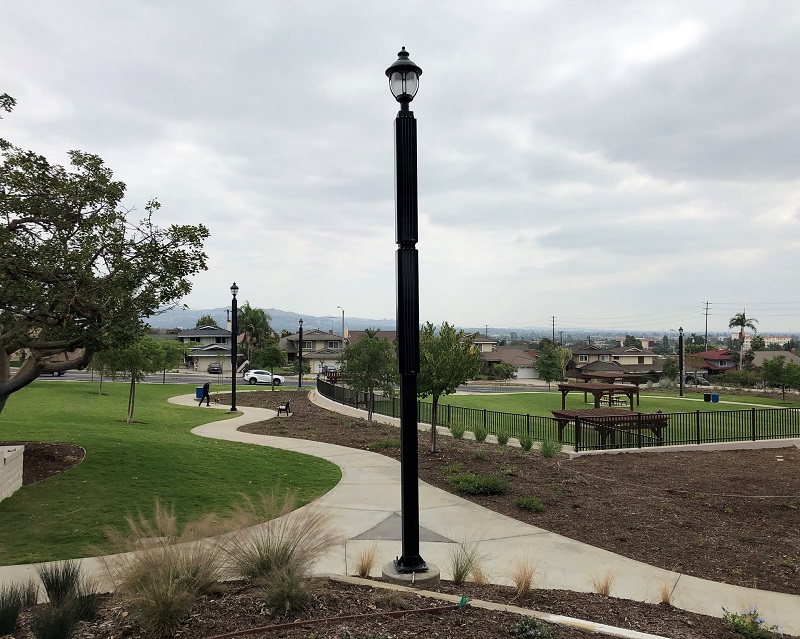 What to Consider When Investigating Solar
Ask yourself these questions when considering solar lights for HOA needs:
Area Requirements
Think through why you need lighting and where:
What do you need to illuminate? Parking area, street, or pathway?

Do you want decorative lighting, or something more utilitarian?

Why is it important to light this area now? What is driving your need for lighting?

Are there any shade obstructions — trees or structures — that may impact solar exposure?
Project Scope and Specs
Consider the unique needs of your lighting project:
How many lights do you need?

What is your project budget, and how much can you spend on lighting?

When do you need the lights?

Do you have specific lumen or foot-candle requirements?

What is your preferred or specified pole height or city limit?

Do your lights need to be monitored?
Financing Needs
Think through how you'll cover the costs:
Will your current budget allow for solar lighting?

Are you interested in rebates?

Would you consider financing your purchase?
Check out case studies from Greenshine customers, or get a quote for a free consultation!
​
FEATURES INCLUDE:

At Greenshine, we configure many of our systems to run for five hours at full brightness at dusk and then dim to 40% power for the rest of the night. Will that meet your needs? If not, just let us know. Our systems are also available with Greenshine Connect- Smart Bluetooth Control. It modernizes the traditional "sunup to sundown" lighting profile, giving the user freedom and flexibility to change light settings at will. 


Learn more about Greenshine Connect

‌



| | | |
| --- | --- | --- |
| Solar powered LED street light pole featuring a 60-80 watt cobra head style LED fixture with 2 solar panels.​​ | Solar powered street light pole featuring a 20-40 watt cobra head style LED fixture with one solar panel.​​ | The industry's first and only above ground Portable Solar Light! The Porta comes in 20W, 30W and 40W, 20′ pole with both single and dual fixtures.​ |
| | | |
| --- | --- | --- |
| A "Cobra Head" style light fixture with modern style elements. | The L30 is pendant mounted, decorative LED site light. | The Flood 60 is a small and discreet, battery-operated, LED light that blends into the environment around it. Perfect for signage or perimeter security applications. |
---
SOLAR POWERED LIGHTS FOR HOAs
General neighborhood lighting
Lighting Control Solutions
Parking lot lighting
LED Roadway Lighting
​LED Perimeter and Security Lighting
LED Street Lighting